faithandsurvival.com » National Blog » Hyperinflation…The GRIM Truth.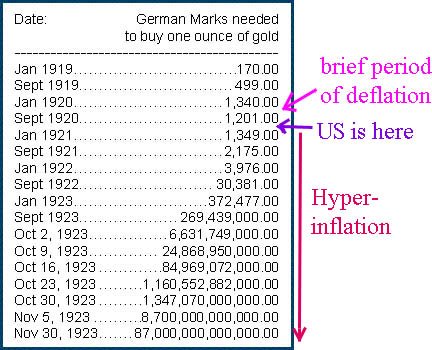 Update March 1st 2011…Just in case you missed this article three months ago..
—————-
Update January 2nd 2011..This blog is more relevant today as commodity prices are even higher than when this was first written…
______________________________
The term hyperinflation is used often these days. Some have done a good job explaining what on the surface that is. To sum it up, if our country enters a period of hyperinflation which most economic experts agree is inevitable based on the current administrations economic policies, we are doomed to government enslavement.  Think about that, how can the greatest country in the world ever be brought to its knees, not by bombs, terrorist, other countries, but by our own government.  Today it is happening right under our noses, with most media organizations not reporting it or sugar coating the facts.
Here is some basic budgeting to help you understand what this look like.  Below is a chart that shows what three different examples  of inflation would do to your families finances:
| | | | | |
| --- | --- | --- | --- | --- |
| Budget Item | Monthly Average current | With 30%  Inflation | With 200%  Inflation | With 1000%  Hyperinflation |
| Food | $600.00 | $780.00 | $1,800.00 | $6,600.00 |
| Gasoline | $300.00 | $390.00 | $900.00 | $3,300.00 |
| Utilities | $450.00 | $585.00 | $1,350.00 | $4,900.00 |
| Basics Totals | $1,350.00 | $1,755.00 | $4,050.00 | $14,800.00 |
Based on this simple scenario how long could you afford to go the local grocery store for food, fill up your tank, or pay your electric bill.  While your expenses are going through the roof, these same percentages are destroying your savings.  If you have $20,000.00 stocked away in a money market account using the 1000% hyperinflation scenario it would be worth $2,000.00 in real dollars, not even enough to cover two months of basic living expenses.
However most likely your local grocery store or gas stations will not even be accessible to you without waiting hours to days in lines.  The cruel truth of inflation is that it not only impacts you and me, the retail customers, but it devastates every one along the supply line.  It will cost truckers over $10,000.00 to fill up one tank of gas, Warehouses will have $100,000.00 utility bills, and the manufactures will have to pull money from their offshore accounts just to afford purchasing the raw materials needed to make the goods.
Americans will be like sheep standing to be slaughtered.  We will beg our government to fix the problem, and they will be ohhhhh so willing to do so.  Hence forth welcome to bread lines, soup kitchens, national ID cards, rationing based on bureaucratic decisions, and a massive ramp up of national guard and the military to ensure "public safety".   If that is not enough, welcome to the ushering in of a new world currency as an "emergency fix" to help stabilize the financial meltdown.  For us citizens that most likely means less than 10 cents on the dollar for whatever savings you have left.
What can we do?
Resist.
Resist the government oppression by economic enslavement. You can begin today by purchasing a 6-month supply of freeze dried, and dehydrated food.  Get dozens of one gallon plastic sport water bottles, a propane stove with plenty of propane tanks. For food I recommend the Thrive products, efoods direct, or mountain house freeze dried pouches.  Trade in as much of your dollars as seems reasonable for you to silver coins that can be easily used to trade for goods and services while the rest of Americans are using theirs for kindling wood.
God Bless You
Filed under: National Blog · Tags: chris, commodity, faithandsurvival, finances, gold, hyperinflation, inflation, mosser, silver